Nakanihon Automotive College [NAC]
●Automotive Engineering Department
Class "2" Auto Mechanic Course (2-year program)
Specialization Courses
Class "1" Auto Mechanic Course (2 + 2 = 4-year program)
Auto Body Repair Specialist Course ( 2 + 1 = 3-year program)
●Motor Sports Engineering Department
(3-year program)
●Bekka (Japanese language and culture course for overseas students)
(6- month/1-year program)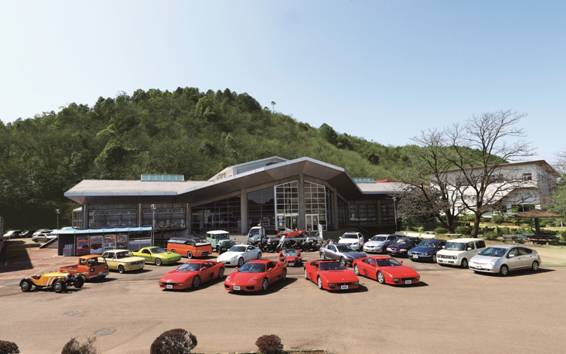 Potential Qualifications at a Glance
Qualify to Take National Examination for:
・Class "2" Gasoline Auto Mechanic License
・Class "2" Diesel Auto Mechanic License
・Class "1" Auto Mechanic License
・Auto Body Repair License
Course Description
Automotive Engineering Department
-Class "2" Auto Mechanic Course
This course qualifies you to take the exam for the Class "2" Gasoline Auto Mechanic and Diesel Auto Mechanic. Students will also have opportunities to further their studies by taking practical training classes such as auto body maintenance, auto bike maintenance and auto design etc. By the end of these courses, students will gain a thorough knowledge of the automotive industry.
Specialization Courses
-Class "1" Auto Mechanic Course
This course has been designed specifically for those who wish to qualify to take the Class "1" Automotive Mechanic License, the highest license in Japan's automotive field. You will learn electric, electronic and environmental engineering skills related to automobile technology. Training includes an internship, which involves practical training and maintenance at the automobile company of the student's choice.
-Auto Body Repair Specialist Course
This course enables you to focus on frame modification, measuring, repairing, and the welding and painting of automobile bodies. Students will acquire the professional knowledge and techniques needed to become Auto Body Repair Mechanics or Auto Insurance Adjuster.
Motor Sports Engineering Department
Students from this department are sent to actual races for training such as Super Formula, Super GT, D1GP and All Japan Road Race Championship, which includes factory visitations and short-term practical coaching by professional mechanics. These practical race experiences provide opportunities to work with professional staff members, which works favorably towards future employment. The knowledge acquired in this program can also serve to prepare students for the Class "2" Auto Mechanic License Exam.
Bekka (Japanese language and culture course for overseas students)
As NAC accepts students from overseas, we prepared this course for students who wish to improve their Japanese language ability before entering Automotive Engineering Department / Motor Sports Engineering Department. In this course, students not only learn the Japanese language but also the cultural difference in order to adjust themselves to the new environment as well as some basic automotive technical words.
Industry Description
In lieu of the flourishing used car market and the desire for consumers to continue to drive cars for longer periods of time, the number of car owners in Japan is increasing on an annual basis. In the face of this increase, the number of mechanics is insufficient. The demand for maintenance industry is also on the rise.The needs of the industry involves from automobile maintenance and sales service specialists to highly skilled technologists with a wide range of skills and knowledge.
NAC has successfully framed an enriched curriculum ranging from automotive engineering theory to practical techniques and applications. Students now have even greater opportunities to work in various capacities within the automotive field with automobile makers and auto insurance companies by making use of their Class "2" Auto Mechanic Qualification.
Overseas Automotive Program
NAC has overseas automotive programs in Maranello, Italy with a cooperation of IPSIA A. Ferrari. Short-term program includes not only sightseeing but also the visitation of Ferrari and Pagani factories, Lamborghini and Alfaromeo. During One-month Program, students are trained to deal with Ferrari engines and bodies. These experiences enable students to broaden their global views.