College of Naka-nippon Aviation [CNA]
●Aviation Maintenance Department
(3-year program)
●Aerospace Manufacturing Department
(3-year program)
●Airport Service Department
(2-year program)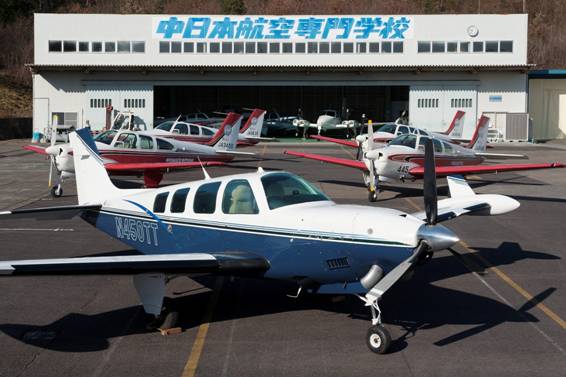 Potential Qualifications at a Glance
Qualify to Take National Examination for:
・Aircraft Maintenance Engineer Class "2" License (specifically for turbine and piston airplanes)
・Aircraft Maintenance Engineer Class "2" License (specifically for turbine helicopters)
・Aircraft Line Maintenance Mechanic Class "2" License (specifically for piston airplanes)
Other Qualifications
・CAD Operator License (AutoCAD)
・Production Planning 3rd Grade
・The EIKEN Test in Practical English Proficiency
・TOEIC
・Operator's Licenses for Special Vehicles (aircraft tow vehicles, special oversized vehicles, forklifts etc.)
・IATA International Cargo Agent Certificate
・IATA International Cargo Agent (Dangerous Goods) Certificate
Course Description
Aviation Maintenance Department
In this Department, the program is based on "hands-on" teaching, using actual aircrafts, various training aids and computers by experienced teachers. Our internship program with Japan's major carrier companies (Japan Airlines and All Nippon Airways) can also be a great benefit for students in order to obtain the national license prior to working in the aviation industry.
Avionic Course instructs students in the fundamentals of electrical engineering, electronics and mechanical electronics using autopilot, avionics, microcomputers and the flight simulator.
Aerospace Manufacturing Department
In this department, students learn the state of art knowledge and techniques of mechanical engineering, aerospace design, aerospace production, production process control and quality control, using CAD (Computer Aided Design), CAM (Computer Aided Manufacturing), Autoclave facility for manufacturing composite parts, NDI (Non-Destructive Inspection) facility. Students also learn how to build airplanes using the US imported experimental type aircraft kit (RV-4). The curriculums reflect the needs of aerospace manufacturing companies.
Airport Service Department
The Program consists of two courses to study the Ground Handling Course and the Airline Business Course. In each course, students learn to become a specialist for all kinds of airport support services such as ramp handler, passenger service staff and international air cargo operators. Students can obtain a license for international cargo handling agent (IATA-authorized diploma) upon graduation. The Airport Service Program's curriculum consists of materials covering the airport internship as well as the business knowledge base.
Industry Description
Due to the rapid increase of inbound tourists and domestic travels, the airline industry has been facing public growing demand. The industry has also been gradually liberalized, which has contributed to new business models, such as low cost carriers (LCCs). In addition, the development of "MRJ", the first Japanese regional jet, has been moving ahead led by Mitsubishi Heavy Industries. Accordingly, there will be constant growth of demand for specialists who engage in this industry.
We work tirelessly at instilling an ethical attitude in our educational program to ensure that our graduates are equipped with the proper knowledge, technical ability and integrity of character to find and maintain a fulfilling and rewarding career within the aviation industry.
Overseas Training Program
CNA has an overseas aviation course where graduates can continue studying at South Seattle College in the United States. We also launched a short-term overseas education program for the undergraduate students as well. Students visit Boeing factory and other aviation related facilities in the Seattle area. Through student exchange program with Korea Aviation Polytechnic College, students experience different cultures which educate them to obtain international sense of thinking. These programs enable students to broaden their views and improve their English skills in the global world.