Gifu University of Medical Science [GUMS]
●Graduate School of Health and Medicine
(2-year program)
●Health Science Department
Medical Technology Course (4-year program)
Radiology Course (4-year program)
●Nursing Department
(4-year program)
●Department of Pharmacy
(6-year program)
●Midwife Specialization Course
(1-year program)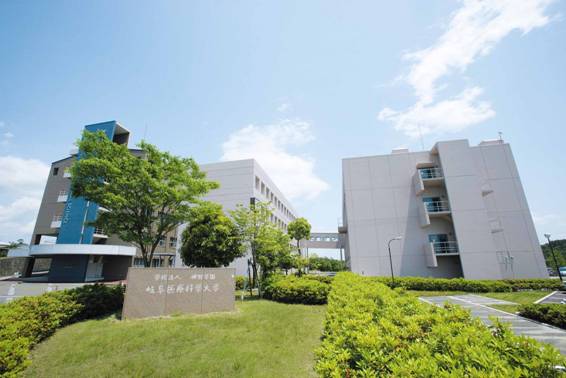 Potential Qualifications at a Glance
Qualify to Take National Examination for:
・Clinical Laboratory Technologist
・Radiological Technologist
・Registered Nurse
・Public Health Nurse
・Pharmacist
・Midwife (Midwife Specialization Course)
Course Description
Graduate School of Health and Medicine
Considering the aging population and declining birth rate, it has become more important that medical specialists work cooperatively in the most efficient way. This course focuses on developing leadership and administrative skills and educational capability as well as high practical skills required in medical setting.
Medical Technology Course
Clinical Laboratory Technologists perform physiological tests such as electroencephalogram (brain waves), electrocardiogram, sonogram tests and other tests such as blood tests and biopsies. This program produces technologists who work in medical care fields, as well as in pharmaceutical companies and medical research institutes.
Radiology Course
Radiological Technologists are specialists who operate medical imaging equipment such as
X-ray/CT-scan/MRI/mammography for the diagnosis and treatment of illnesses. They are required to have knowledge and skill in physical science, medical equipment and data analysis.
This course incorporates hands-on learning so that students get to practice and learn the skills necessary for their future career.
Nursing Department
Nurses assume key roles in "Team Treatment" because of close interaction with patients. A public health nurse is a practitioner in the medical field who provides preventive medical services to local residents. This course enables students to practice at the highest level of the profession, providing accurate, independent diagnosis and effective team treatment.
Department of Pharmacy
The Department of Pharmacy endeavors to support the further development of the medical community. It aims to equip future pharmacists with the skills they need to prepare and manage prescriptions and medication at pharmacies, hospitals, and other medical facilities. This course will also cover consultations about home care, with an emphasis on caring for the patients' overall health. The class will be taught by experienced instructors from the Faculty of Pharmacy who are well-versed in community medicine and team medical care."
Midwife Specialization Course (Program for college graduates)
This course trains midwives, equipping them with the professional knowledge and techniques required to secure life for mothers and newborns.
Industry Description
In recent years, the main focus of the medical industry has shifted from how to treat patients' illnesses/injuries to how to improve patients' quality of life during and after treatment. To provide patients with medical and emotional care, it is critical not only for medical doctors, but also for other medical staff to perform their responsibilities with high professionalism. For this reason, hospitals have been proactively incorporating a new concept called "Team Treatment". In this approach all medical care providers such as doctors, nurses, radiology technologists, clinical technologists, physical and occupational therapists and caseworkers work cooperatively as a team to treat patients. All medical professionals with different areas of expertise contribute their knowledge and skills. As a result, patients receive more effective treatments. To carry out this "Team Treatment" concept in the most effective way, medical care providers are required to have better communication skills with each other.
Our goal is to produce medical care providers with effective communication skills, who will make significant contributions to "Team Treatment" and "Mental Health Care". We have enriched the "Mental Health Care" curriculum, so that students can learn from many different perspectives.
Overseas Medical Program
GUMS has a short-term overseas medical program with Kapiolani Community College in Hawaii and Griffith University in Australia. Students get to learn general and medical English as well. Local hospital visitation is included in Australian program. Lectures from specialists in the medical field are included in Hawaiian program. These experience support the students to understand the difference from Japanese medical environment as well as cultural difference which broaden their global views and improve their English skills as well.